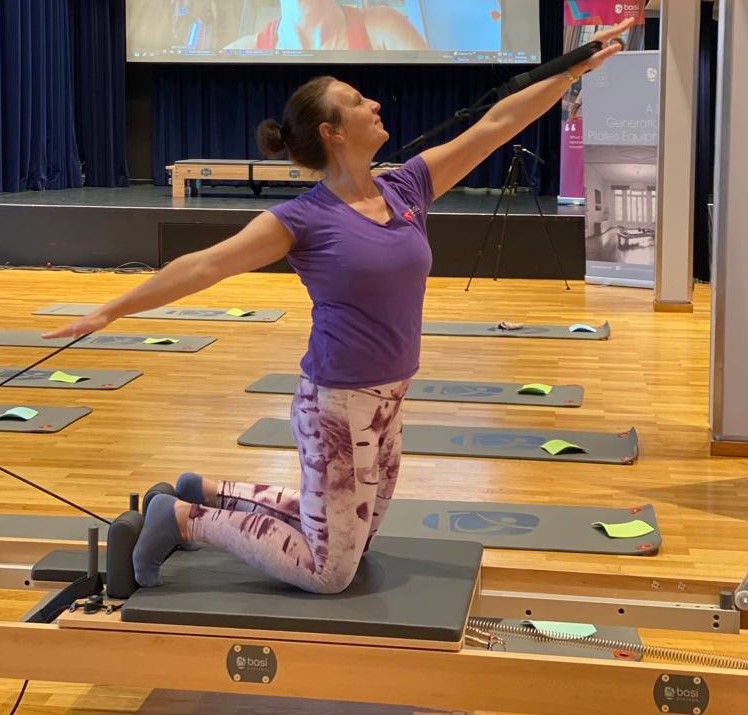 Working with the principle of efficiency in Pilates
(this workshop is recognized as advanced education from DPV and PVA)
Efficiency is one of the main principles in Pilates. There is a reason why Pilates teachers say to their clients: Pilates does not become easier, but it will get better! What do we mean? As our Pilates practice continues we dive deeper into the work and learn to understand the exercises from all aspects: the balance between stability and mobility, precision, breath and correct muscle recruitment. However, some additional ressources often remain under-used. The equipment as well as gravity do not only provide challenge but they also assist during the execution of an exercise. As in a dance with a partner or a fight in martial arts you achieve the best result when you use the power of the partner or opponent instead of resisting it.
In this workshop we will look at exercises on the mat and equipment which are typically considered as challenging and I will share my experience how I learned to master them by integrating gravity, the floor and the equipment, allowing them to unify with my body and using their ressources in an optimum manner which lead me to a more efficient, energy-saving and in total better result.
Lecturer: Natascha Eyber
Date: o2nd of March 2024
Time: 10:00 – 16:30 (incl. break)
Price: 159,- € (290, – € for both days – Working with the principle of efficiency in Pilates & teaching Semi Privates on the Pilates equipment)
Location: Dynamic Arts, Kartäuserstr. 13, 79102 Freiburg
Language: German/English
This workshop is offered in a hybrid model!

Application: here