Workshops
"Learn from the Leaders"
The workshop language is English. The presentations of Andry Vleeming are in the langauge marked in the program.
Finding the perfect pitch- Cueing for success
From the outset BASI® (Body Arts and Science International) was intended to be a balance of art and science, two complementary forces within movement – scientific rationale and artistic appeal. Every exercise is choreographed and refined to satisfy these two aspects of movement. The teacher's challenge is to cue in a way that defines the shapes we are striving to achieve and guides the student toward success. It inevitable comes down to cueing and acquiring the insight to offer the right cues.
In the process we will look at the vital role of the eyes in finding correct placement. If the eyes are not focused in the correct direction the head, and spine, will likely not be in the correct place. We will also address the body's instinctive and reactive response to stress and explore how this can hinder achieving precision in alignment and body position. One position will be specifically looked at: the infamous C-curve. The C-curve is a position we measure many other positions by – in musical terms "middle C" (256 Hz). Let's find perfect pitch!
Hands and feet
Do clients often ask you what to do for hand, wrist, or foot pain?  In this interactive workshop you will learn exercises that physios use to treat conditions such as carpal tunnel syndrome, golfer's elbow and tennis elbow, hand or foot arthritis, ankle sprains, shin splints, plantar fasciitis, and overpronation. These exercises require little to no equipment so they are easy to incorporate into your Pilates sessions.  
Pilates for Text Neck
"Text neck" is an overuse syndrome caused by the repetitive stress of holding one's head in a forward and downward position for extended periods of time.  Recently, the prevalence of this syndrome is on the rise due to increasing hours spent on handheld devices such as smartphones, tablets, and laptop computers.  In this workshop, we will discuss the anatomy and physiology of the tissues affected by text neck posture. One of the best ways to remedy text neck is through exercise.  We will learn some of the best strengthening exercises and stretches to help eliminate the symptoms of text neck.  With this knowledge and practical experience, you will feel confident in treating your own text neck and helping others who suffer from it.
Pilates prescrition- Hip Injuries
This workshop will teach Pilates Instructors a physical therapy approach to working with clients suffering from hip pathologies such as: piriformis syndrome, osteoarthrosis, total hip joint replacement, and labral tears.  Functional anatomy, biomechanics, and current research related to the hip will be reviewed.  Specific injuries and diagnoses will be discussed.  Participants will learn precautions and/or contraindications for these injuries, as well as options and/or exercise modifications to the original Pilates repertoire. Through lecture, discussion, demonstration and practice participants will learn safe ways to work with clients who suffer from some of the most commonly seen hip issues.
Stabilizing the lumbosacral spine
The lumbosacral spine plays a central role in sustaining the postural stability of the body. Its stabilization and movement is contingent on the complex interaction between muscles, ligaments and fascia surrounding the torso. This presentation focuses on providing a detailed understanding of how abdominal and spinal muscles cooperate to influence lumbopelvic motion and postural stability. The importance of the thoracolumbar fascia, its complex function and  its associated fascial compartments will be analyzed and discussed to implement effective treatment/exercising for patients/clients with lumbopelvic pain.
Anatomy and function of the sacroiliac joint
This presentation focuses on the (functional) anatomy and biomechanics of the pelvic girdle and specifically the sacroiliac joints, which are essential for effective load transfer between the spine and the legs. They also permit stable (yet flexible) support to the upper body. After a general functional anatomical overview of the pelvis, sources for pelvic pain will be discussed and biomechanical models for sacroiliac stability will be analyzed including the relation of form and force closure.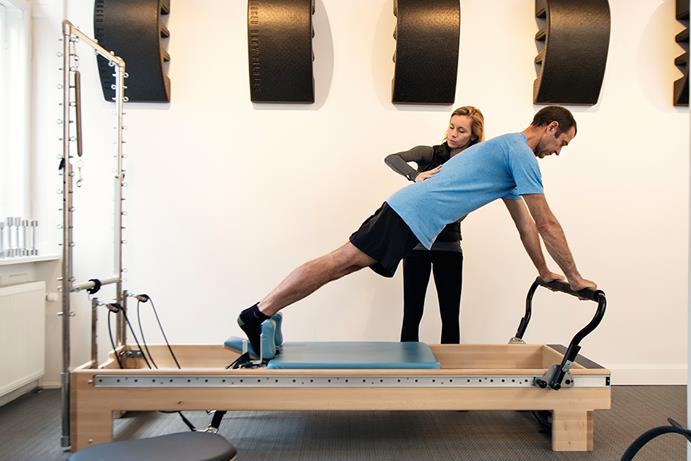 Functional knee joint in everyday living
The knee joint needs to be both stable and mobile. At the same time it is also reliant on foot, pelvic and spinal alignment. Lack of strength and alignment, can pose both acute or chronic knee problems and arthritis, which can result in knee surgery or arthroplasty. We will look at how to help your clients prevent knee problems, addressing common underlying misalignment problems, as well as post-surgery rehabilitation.
This will be a functional movement workshop using mat and Pilates studio apparatus as well as dynamic weightbearing functional exercises, that help the knee joint to cope with everyday challenges of stairs, walking, squatting and running.
Rotation and multi planar movements of the torso and spine in the Pilates studio 
This will be a movement orientated workshop with mat and equipment based exercises to inspire you to add more multi planar movement into your Pilates repertoire.
Whether your clients are active in sports or sit at a computer all day, it is important to address mobility of the spine in all planes of movement. Functional daily movements are mostly multiplanar and we move in many combinations of movement throughout the day. Lack of movement through sedentary lifestyle, illness and injuries will affect the posture and reduce our ability to move in these planes. Rotation and extension are difficult movements to perform and also some of the first movements we lose as we age. We will explore how these movements of the spine interact in multi planar movements together with flexion, lateral flexion and lateral translation. 
Adding more focus to multi planar movement will target and improve the fascial web and give more freedom of movement to clients of all ages and backgrounds.
Pilates for people affected by thalidomide damage
Approximately 2500 people affected by thalidomide damage are living in Germany and all of them need one thing when ageing: maintianing flexibility within stability to manage their daily life. Pilates is such a wonderful method for this specific population as the exercises as well as the equipment can be modified towards the individual's needs. In this presentation I will give together with people affected an insight of our work and we will provide the opportunity for questions and answers.
The mat classes will be presented by representatives of each BASI European Licensee
Fabio Caracci (for BASI Italy)
Principals of Dance applied in a BASI Mat Class
Fabio will integrate main principles of dance such as foot and arm work into a regular BASI mat class. The session will focus on functional mobility of the extremities of the appendicular skeleton as well as tempo and rhythm within movements and their positive output.
Mariam Younossi (for BASI Germany)

Bringing equipment on to the Mat

In this mat class we will bring some exercises from the Basi Pilates equipment repertoire on to the mat. We will be finding new ways to integrate the familiar choreographies using Basi Principles to create a movement flow. You will discover interesting variations and challenges that create a new impetus for your mat work classes.
Elena Malci (for BASI Turkey) 
"As above, so below, BASİ Flow!"

Mind, heart and body. Bring your tools on the mat. Let's explore the depth in BASI Mat Flow. The class is all about feeling the close connection in between pleasure and hard effort. As we root down to reach our internal resources, together we can touch the sky!
Vivi Letsou (for BASI Greece)
Less Work—More Results: Breathing & Moving with the Universal Energy/

Breathing & Moving with the Universal Energy is the key to correct, strong, and effortless exercise, as well as daily movement.  In this class, we will learn to direct the flow of breath as if playing a musical instrument.  Engaging the 3 diaphragms of the perineum, bottom of the lungs, and throat, our breath flows in a powerful and continuous pattern.  Exercise while standing, seating, and lying down is synchronised with this pattern as we move in a dynamic, yet effortless way. 
Debora Taddei (for BASI Spain)-
Lower back disc herniation mat class with soft ball/

Many of the classical mat exercises can be contraindicated for a disc pathology such as "herniation", but I invite you to experience a very challenging mat class totally suitable for relatively fit people with this condition. The secret will be to: use the BASI Block System, select the appropriate exercises and modify when necessary. We will use a soft ball to add some challenge, assistance or feedback depending on the exercise.
Sara Canini (for BASI Austria)
Pilates all around- a journey through the body

From the feet to the top of the head, we don't want to miss anything through the work, with the help of the BASI Pilates principles such as awareness, precision, breathing we warm up, strengthen and lengthening the different body parts. In addition we create with the movement a connection into the body, we work with all the different axes and planes to fulfill the space inside and outside.